Originally published by Roger Bissell on RogerBissell.co.
I think that it is important to continually grow in life; it keeps you young, quick and alive. I personally don't know how to live any other way than to be continually learning, pushing and striving for something more. This way of thinking fuels and supports the reason I created Eat. Drink. Explore.
"When you're green you grow and when you're ripe, you rot." It is such a simple expression that has always been true in all parts of my life. Challenge yourself to grow! I encourage you to explore new cultures, countries, eat new foods and drink new wines. Today, I introduce you to one of my favorite regions in Italy, San Benedetto del Tronto in Le Marche.
Visit Le Marche
One of the places in Italy which is still unadulterated and undiscovered by Americans is the region of Marche. I am not sure why that is other than the fact that it hasn't been immortalized in American cinema like Venice, Rome or Tuscany. This magical place is situated on the Adriatic Sea which is the central east coast of Italy, directly across from Tuscany. It has the lungomare and yet, you can also be in the mountains in just a 20 minute drive enjoying a completely different lifestyle and cuisine. Marche can be reached by car from Arezzo in just 2 hours and it only 2 hours from Rome.
Over the years, I've traveled to Marche several times, but those trips were comprised of brief visits with wineries and restaurants without having an opportunity to really appreciate the fabric of its daily life.
I must mention that I was even more inspired to truly explore this region because of my relationship with Alfonso Cevola. He has been a someone who I have really looked up to, and who over the past 40 years cut his teeth purchasing and selling wines from Italy for several companies. Thirty years ago, he fell in love with the magical seaside fishing/tourist town of San Benedetto del Tronto when it was the last bastion of the real Italy that you have likely seen in movies. It was a place where everything was artisan and local; completely self-sufficient and the pace of life was slow as it should be. Alfonso, probably unbeknownst to him, has always inspired me like a patient father which made me want to explore and understand his experiences in life, especially those from this place.
To my friend Alfonso, I am forever grateful to you for giving me peace in a time of huge uncertainty in my life.
When I arrived in Marche, in the northern town of Senigallia, it began with an epic lunch at the recently awarded three star Michelin restaurant by Chef Mauro Uliassi. I enjoyed this unforgettable, decadent experience, but realized I needed to get into the folds of the fabric and authenticity of everyday life. What I needed was a local here on the ground who could show me a true experience. That hero ended up being Eros Spinozzi of Eros Spinozzi Selections.
I had never met Eros before our meeting, but I knew of his wines that he exports to the U.S. which are stunning and you should seek out (see my recommendations at the end of this post). Eros took me under his wing like a long lost brother and for the next week I was treated like a special guest. Yes, he took me to several vineyards and introduced me directly to several wineries to establish friendships with them as well, but what he really did was act as my personal concierge and tour guide to the region. Thank you Eros!
Local life in San Benedetto del Tronto
There is a huge fishing port in San Benedetto del Tronto that operates like a Japanese seafood market with an auction that takes place on four mornings per week. Many young teenagers work in these fish markets or in the tourism sector as the population of this town swells to nearly 300,000 every summer. There is a huge soccer rivalry between San Benedetto and Ascoli Piceno, a town just 20 minutes inland up into the mountains. Here in these seafront restaurants you can find the places where locals eat like IL Chiosco di Mattioli Maria.
Did you know that most authentic Italian restaurants don't have menus?
The most authentic way to travel is to fully immerse yourself into other peoples' cultures and cuisine as it allows you to truly understand others. Italians are such purists with food that everyone is familiar with what is in season at any given time as we only eat things at the height of their maturity thereby guaranteeing the purity of each ingredient. This was on full display the first time Eros took me out to eat seafood. No menu was given and he simply told the server that we would have antipasti, pasta and entrees. The server gave us a choice of grilled, sautéed or fried.
Unless you know what seafood is in season, you wouldn't know what types of seafood would actually be coming to your table. The dishes just keep coming until you say stop; shrimp, prawns, mussels, calamari, octopus, several species of fish, all delicious.
Your server will typically recommended a bottle of local white wine like Pecorino, Verdicchio, or Passerina (we chose the pecorino from Simone Capecci). All of the food at lunch was so simple, yet so fresh; so fresh that you knew it was purchased at the seafood auction that morning. The price tag for two people and two bottles of wine was about 40 euro (which is a bargain).
After an epic seafood lunch, I recommend that you stroll out onto the breachway in the port which is filled with carved stones from famous artists all around the world. Or you can enjoy a gelato as you walk through the outdoor markets. Go out at night in the main piazzas and spend hours just eating pizza and drinking with friends. Or head inland 20 minutes up at the base of the mountains in Ascoli Piceno. The people of San Benedetto del Tronto are warm, welcoming and encourage you to fall in love with them throughout this region.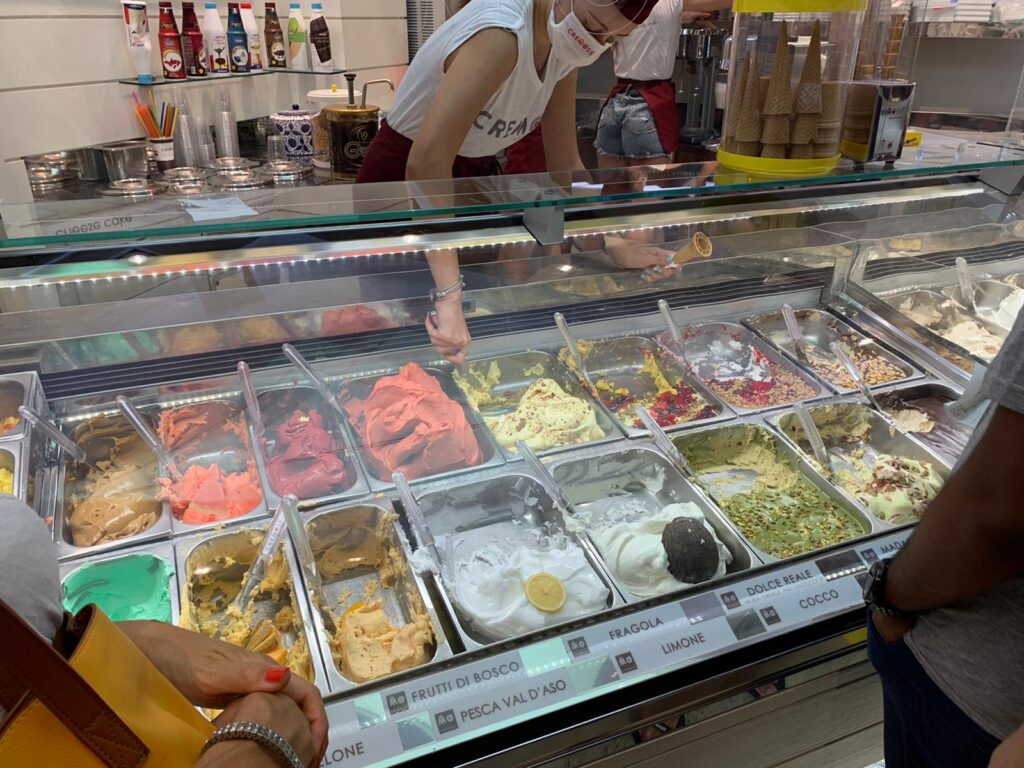 The next night, Eros invited me for dinner outside in his terrazza with his three brothers, all of their children and his mother too. Mom walked me through her prized garden and showed off some of her vegetables and tomatoes (I went home with several jars). Wow, can these people eat! We sat down again for a meal which included the classic cuisine of southern Marche and Abruzzo, Arrosticini.
Skewer after skewer of lamb was served, marinated five different ways as well as Italian-style BBQ chicken that still makes me salivate thinking about it. Grilled vegetables, eggplant, bruschetta, salads and cheeses kept coming throughout the night! We listened to music, drank easy, affordable wine and laughed the night away as a family. It became obvious to me that the real treasure of life is this type of activity, gathering around for 5-6 hours eating, conversing and just doing nothing (dolce far niente). This, along with short strolls amongst the community to appreciate art, other people, and their passions, is what makes a man or woman truly rich.
I felt the soul of San Benedetto del Tronto that night and it whet my appetite to return to this piece of authentic paradise every year so long as I am alive. Alfonso my friend, I can feel the rhythm of your heart too. Eros, thank you for taking the time to help me understand everything about your magical place and to do this without expecting anything in return is heartfelt.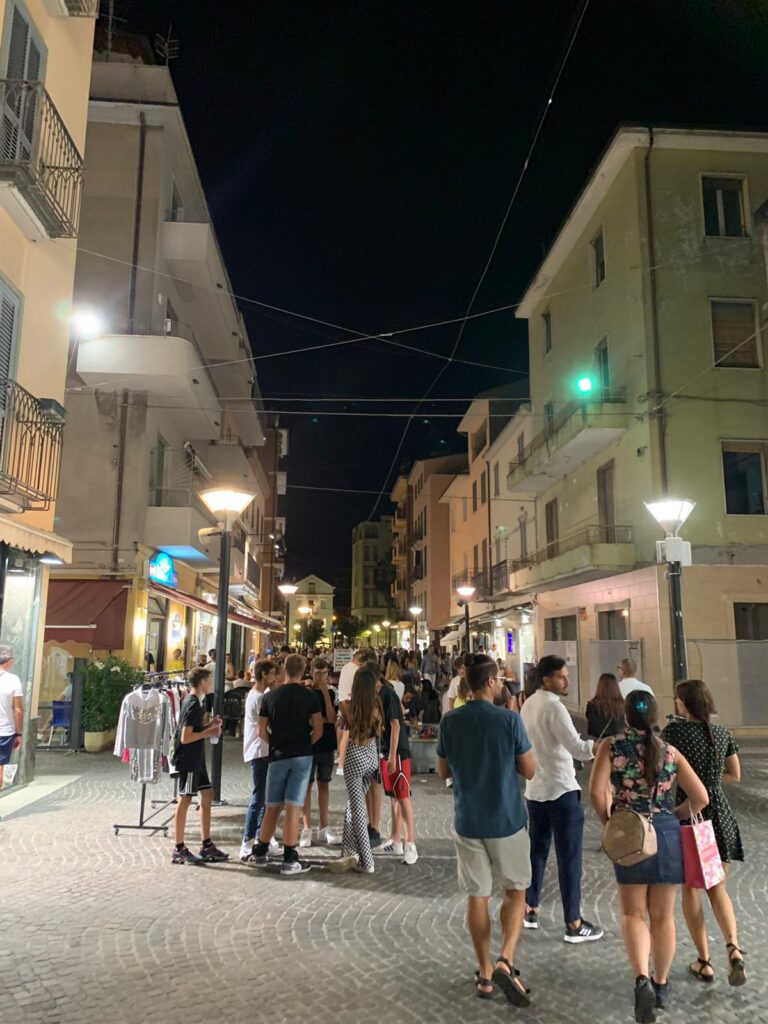 Travel to this incredible region without even leaving the country by ordering a few wines from Eros Spinozzi's heartfelt selection here. Some of my favorites within his selection are the Simone Capecci Pecorino, La Chiara Gavi, and San Lorenzo Montepulciano. As always please continue to share your stories with our Eat Drink Explore community and connect with me on Facebook and Instagram.